Home
| Escape to - Poland
Escape to - Poland
Poland also gained some Czechoslovak territory - the Těšín region in the eastern part of the country - despite this Poland was the first destination for the future Czechoslovak RAF members. It was not only because of Adolf Hitler´s current activities that they believed that Poland would be his next target and that there it would be possible to fight not only for Poland but also for Czechoslovakia. The airmen also headed there because they had heard that a Czechoslovak army in exile was being formed in Poland.
Future RAF airmen crossed the border in railway wagons, on foot through the forests, as well as through underground mines which had entrances in the land Poland had annexed. On 7th June 1939, eight Slovak pilots flew to Poland from Slovakia. It is necessary to state that not only military personnel but also people of all professions escaped into exile.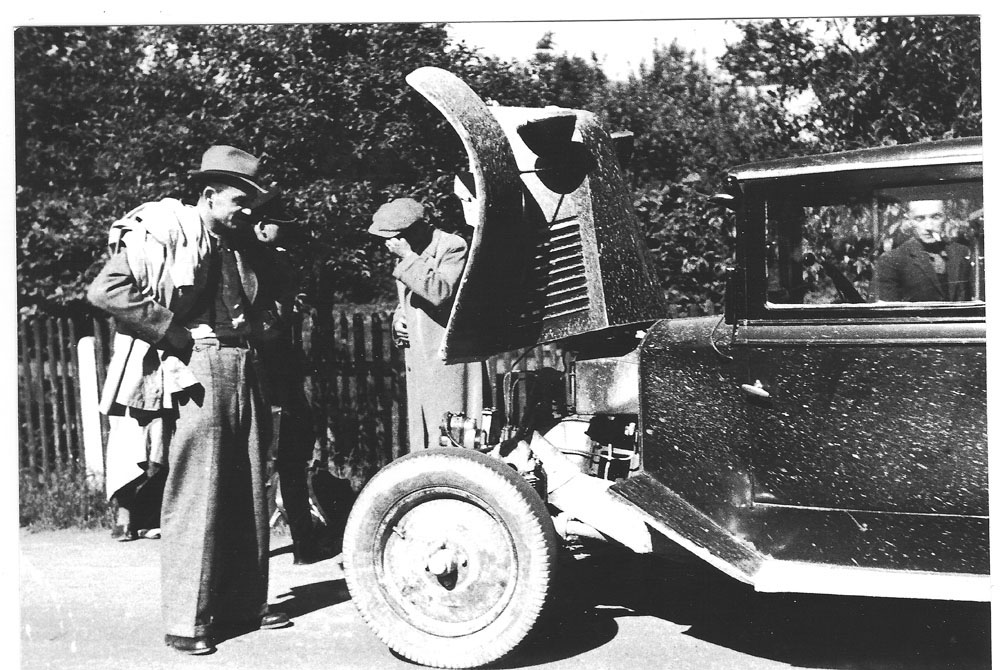 29th May 1939. From the crossing of the border. From left: Karel MRÁZEK (later Commander of the Czechoslovak Fighter Wing), Stanislav ZIMPRICH (RAF fighter pilot with 310 (Czechoslovak) Squadron, KIA 12th April 1942.), Egon NEZBEDA (fighter pilot with 310 (Czechoslovak) Fighter Squadron) photo credit: Felix ZBOŘIL (fighter pilot with 313 (Czechoslovak) Fighter Squadron) It was not common to take photos of the border crossing. This photograph is part of a unique series of pictures. Archive of Martin Vrána.
After crossing the borders, the Czechoslovaks headed for Kraków. Czechoslovak military group had been founded there by fugitives from Czechoslovakia; their leader was 1st Lt. Jiří KRÁL (KIA in Monneville, France on 8th June 1940.)
With regards to the fact that the French government (the same as the Polish) could not accept citizens of a foreign country into its regular army in times of peace, Czechoslovak pilots were required to voluntarily sign a commitment to enter the French Foreign Legion with the agreement that, in the event of war being declared, they would be released and would be able to fight for their own army. This commitment (signed by future pilot of 68 Night Fighter Squadron Karel RICHTER, KIA 5th September 1942) evoked bad feelings in Great Britain later, because it included the following: "I promise that, after arrival in France, I will enter the Foreign Legion if, for any other reason, it is not possible to deploy me to another part of the army. Currently, I am aware that, if I do not adhere to this commitment, I will be sent home across the German border." Archive of Martin Vrána.
However the Poles were not interested in the Czechoslovak airmen; therefore their departure for France was negotiated with the French authorities. However, in July of 1939, with the certainty of the German invasion of Poland, the Poles changed their minds about accepting Czechoslovaks into the Polish Air Force. First, they accepted the eight Slovaks that had flown from Slovakia in June. The Poles eventually offered the Czechoslovak airmen who were preparing to sail to France the option of entering the Polish Air Force. Thirteen men accepted. These pilots mostly accomplished intelligence and reconnaissance flights in unarmed outdated bi–plane aircraft. If they attacked a German position, it was mostly opportunist attacks using hand grenades thrown from the aircraft.
When the fall of Poland was nearing, the Czechoslovak airmen – deployed in various units – evacuated in different ways to USSR and Romania. Airmen captured by the Red Army were imprisoned, for many more months in internment camps.
Overall, the Czechoslovak pilots in Poland accomplished 400 operational flights lasting 1,500 hours from 4th to 22nd September 1939. Four of them were killed: First Lt. Štěpán KURKA, Pilot Officers Zdeněk ROUS and Ondrej ŠÁNDOR and Sgt Václav PEŠIČKA.
It is necessary to emphasize that Czechoslovak pilots were constantly in danger both while escaping and eventually in the combat zone – and not only by militant operations. On the way to the border, they risked death when crossing over – they could have been shot by German border guards. Other risks, mainly when escaping the so–called Southern, or Balkan, route (through Slovakia and Hungary) – they risked being sent back to the Protectorate and handed over to the Gestapo if captured.
Another risk that remained for the entire duration of the war was the fact that Nazi Germany did not look upon Czechoslovak military in exile as enemies, but as traitors. Since German occupation they were now citizens of the Protectorate of Bohemia and Moravia – formed after Slovakia broke away and the remains of Czechoslovakia was occupied by the Germans – and now part of the German Reich and thus Czechoslovaks who took up arms were threatened with death.
The "Polish Four-Leaf Clover" – Czechoslovak pilots in a Polish squadron. First row from left: Vilém KOŠAŘ (KIA, 8th November 1940), Matěj PAVLOVIČ (KIA 20th April 1941), second row from left: Josef BALEJKA, Josef FRANTIŠEK (KIA, 8th October 1940). Archive of Martin Vrána.
A room in the internment camp of Svatobořice u Kyjova. The Svatobořice – Mistřín Cultural Center.
Even family members of the Czechoslovak military abroad were in danger. On 17th September 1942, German authorities established an internment camp for them in Svatobořice u Kyjova (in the South Moravian Region) as a part of "Act E" (for "emigrant"), which was initiated following the assassination of the Acting Reich–Protector Reinhard Heydrich. This was in retaliation in response to the resistance activities of those close to them as well as a prevention measure – so that they could not assist in helping Allied airdrops.
During the existence of the camp, approximately 3,000 prisoners passed through, including the relatives of more than 200 RAF members. Conditions in the camp were not as bad as in the concentration camps, but conditions for hygiene and subsistence were very harsh, not to speak of the psychological and physical oppression. Luckily, many of the residents of Svatobořice u Kyjova decided to help the interned despite the risk to their own safety.
Attachment