Home
| Josef Horák and Josef Stříbrný
Lidice tragedy
Lidice u Kladna were burned down on June 10th, 1942. The pretext of this massacre became a letter addressed to Anna MARUŠČÁKOVÁ, an employee of Palaba company, which was retained by her director Jaroslavem Pála. The letter could have looked like written by one of the parachutists who assassinated the Acting Reich Protector of the Protectorate of Bohemia and Moravia. This was later disregarded. In reality, the real reason for writing the letter was an attempt of Václav ŘÍHA to end his marital infidelity. Because of the nature of the letter, the owner of the factory Jaroslav Pála decided to report it to the Gestapo. Investigation ensued and since it came to light that the writer of the letter sent regards via Anna to the family of Josef HORÁK from Lidice, who was serving with the RAF, the village was burned down, men older than fifteen years were executed, women were taken to concentration camps (sixty of them did not survive by the end of the war), some children were sent to Germany to be germanized and eighty two others were probably murdered in the Nazi extermination camp in Chełmno nad Nerem in Poland.
Burned remains of Lidice.
In reaction to this tragedy, the Lidice Shall Live movement was established in Great Britain. The movement was started by a member of the municipal council in StokeonTrent Barnett STROSS who, together with miners from the entire world, proposed that Lidice should be rebuilt. He contributed very significantly to this objective, and not only financially. Lidice resident Josef HORÁK was also active in this movement.
Postcard from the American village of Lidice in the state of Illinois. The postcard was addressed to Otta HRUBÝ, at that time a member of the 57 Operation Training Squadron, and formerly a pilot of 111 Squadron RAF. This village of Lidice used to be called Stern Park and was, similarly to many others, renamed as a part of the solidarity wave with burned Lidice in Czechoslovakia. Archive of Antonín Nešpor.
Once Czechoslovakia was liberated, the Society for Rebuilding Lidice was founded. Its members were the Lidice women and children who survived the war. This society was founded by Act No. 187/1946 Coll. The second paragraph of Paragraph 1 explicitly states: "The main purpose of the Society is to build Lidice, to give a new home to Lidice women, who came back from concentration camps, and their children within the borders of this community..." Despite the fact that Lidice natives Josef HORÁK and Josef STŘÍBRNÝ, RAF pilots, were already back in the country, the act did not mention them. That is why Josef HORÁK and Josef SSTŘÍBRNÝ desired to become members of the society. Both of them asked to be granted the same rights that the act granted to all current residents of Lidice. While they were accepted as members of the society, the same rights were not granted to them because of the above mentioned act. A telling illustration of the situation after communist coup in 1948 can be demonstrated by the minutes from a meeting of the Society for Rebuilding Lidice committee from 16th June 1948. The minutes include a speech of a Lidice woman, survivor from Ravensbrück and the first Chairman of the Local People's Committee in Lidice Helena LEFLEROVÁ: "Since ... Josef HORÁK, who has recently escaped abroad, abuses his position in the Society for Rebuilding Lidice for subversive activities in England, the Society has published ... declaration..." This declaration is placed in a different section of the panel.
Josef HORÁK and Josef STŘÍBRNÝ were devastated by the Lidice tragedy and by the death of their relatives, about which they learned from the radio in Great Britain. Josef Horák has never recovered from this tragedy and blamed himself for the burning of Lidice. His return home was not made easier for him even by some Lidice women who, under the impression of the tragedy of their families and their own, unjustly blamed him for that as well.
F/Lt Josef Horák
Born on 24th June 1915, Hřebeč, Kladno District, Central Bohemian Region
Died on 18th January 1949, Chipping Sudbury, Gloucestershire, Great Britain.
One of the Lidice men who could not and must not have returned back.
Josef HORÁK from the HORÁK family of Lidice was born in Hřebeč by an incident. His mother was late pregnant when she went to see a fair there. After the occupation of Czechoslovakia and demobilization, he was assigned to an office where he met another Lidice native Josef STŘÍBRNÝ and also Václav ŠTUDENT from the nearby village of Hostivice. All of them together eventually left for abroad. At RAF, he would serve with of 311 (Czechoslovak) Squadron as an air gunner. He completed his first two hundred flying operation hours. For the second term, he was re−trained to be a pilot. After completing his operation activities, he studied and graduated from the Military Academy, after which he became a liaison officer. After the war, he remained with the Air Force, but, because of the political development, left to exile in April 1949. He died in a plane crash.
All members of his family were murdered during World War II after the village of Lidice had been burned down.
Since 1992, one of the Lidice streets bears his name.
Photograph of Josef HORÁK and his sister Anna. Anna KOHLÍČKOVÁ, maiden name HORÁKOVÁ, later NEŠPOROVÁ, survived in the Ravensbrück concentration camp. When arrested, she was pregnant and was thus kept interned. After giving birth to a girl, her daughter was taken away. Archive of Antonín Nešpor.
Postcard from Berlin to his sister. "...It is a pleasure to see how we have "bruised" it here ..." Sent on 24th June 1946. Berlin was the target of 311 (Czechoslovak) Squadron nine times, the first time on 23rd September 1940. Archive of Antonín Nešpor.
Crew of a bomber of 311 (Czechoslovak) Squadron, with which Josef HORÁK used to fly. From the left. Posádka bombardéru 311. čs. perutě, se kterou létal Josef Horák. Zleva: Karel VALACH (MIA, 23rd June 1941/23. 6. 1941), Josef FILLER, Josef BERNÁT, Vilém KONŠTACKÝ (MIA, 23rd June 1941/23. 6. 1941), Josef HORÁK, Jan PLZÁK. Archive of Antonín Nešpor. Archiv Antonína Nešpora.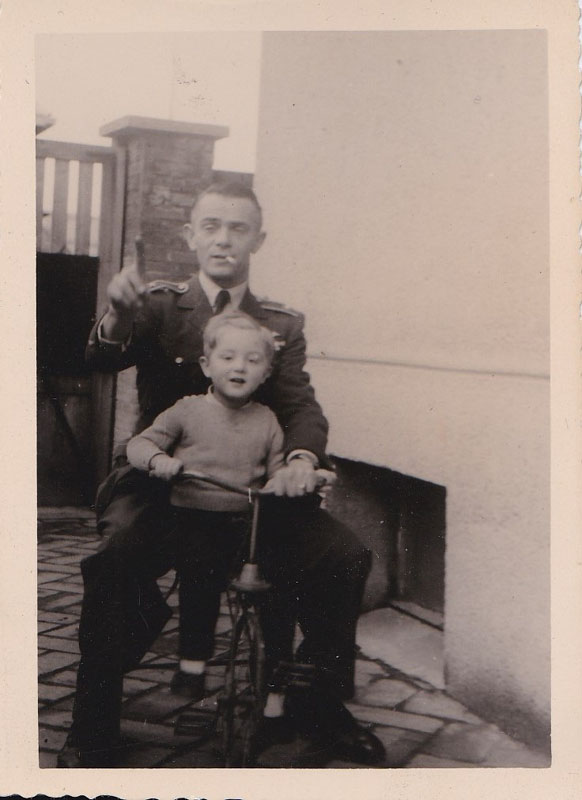 Josef Horák with his son, Czechoslovakia. Archive of Antonín Nešpor.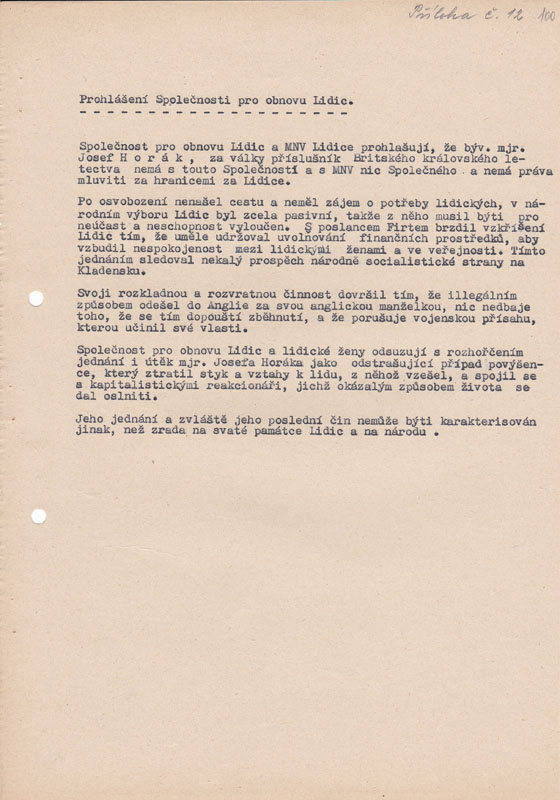 Declaration of the Society for the Restoration of Lidice issued after Josef HORÁK emigrated from the communist Czechoslovakia: "The Society for the Restoration of Lidice and the Lidice Municipal Authorities declare that former major Josef HORÁK, member of the British Royal Air Force during the war, has nothing to do with this Society and the Municipal Authorities. Josef HORÁK has no right to speak abroad on behalf of Lidice. After the liberation, he did not find the right way and was not interested about the needs of the Lidice people. As a member of the Lidice Municipal Authorities, he was completely passive and had to be thus removed from this body for his often absences and incompetence. He … obstructing the resurrection of Lidice by intentionally withholding financial resource with the objective to cause discontent among the Lidice women and the public. By doing so, he was following the crooked interests of the National Socialist Party …. He completed his destructive and subversive activities by illegally emigrating to England with his English wife, not considering the fact that he is committing desertion and breaching his military oath, which he took to his home country. The Society for the Restoration of Lidice and the Lidice women condemn with outrage the actions and escape of major Josef HORÁK as an deterrent example of an arrogant man who has lost contact with and relations to his people, from whom he had arose, and who joined the capitalist reactionaries, sumptuous lifestyle of whom has blinded him. His acts and especially his last one cannot be characterized in any other way than a treason against the holy memory of Lidice and against the nation." It is not necessary to add that nothing is further from the truth than this allegation. State Regional Archive Kladno, fund Společnost pro obnovu Lidic a Ležáků (NAD 810), in. č. 11, karton č. 3, Zápis ze schůze správního výboru z 25. 5. 1948.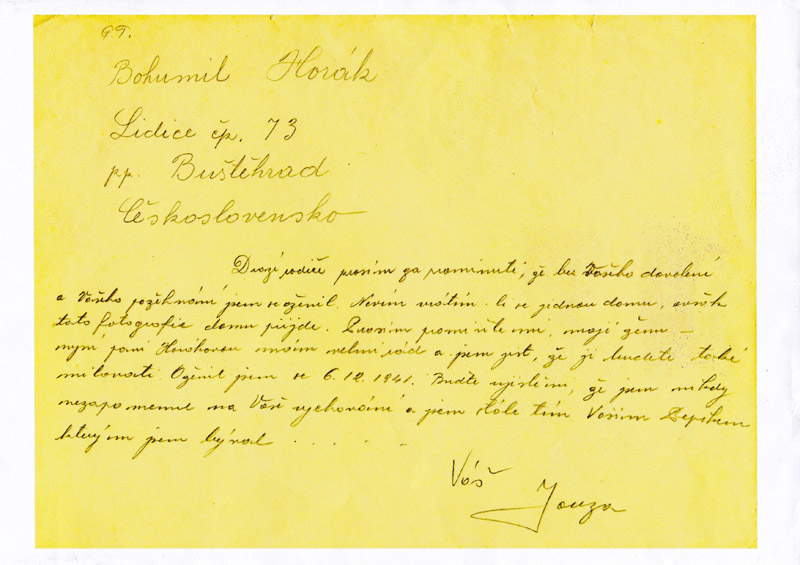 Letter to his parents, informing them about his marriage, which could never been delivered. It includes the following text: "Dear parents, please accept my apologies that have gotten married without your approval and blessing. I do not know if I ever return home, ... Please forgive me, I like my wife, Mrs. HORÁKOVÁ now, very much and I am sure that you will love her too. I got married on 6th December 1941. Please be sure that I have never forgotten my upbringing. I remain the same Pepík I used to be." Archive of Antonín Nešpor.
Photograph of the grave of Josef HORÁK from the summer of 1991. Archive of Antonín Nešpor.
F/Lt Josef Stříbrný
Born on 28th July 1915 in Lidice, Kladno District, Central Bohemian Region
Died on 12th November 1976 in Písek, Písek District, South Bohemian Region
Josef STŘÍBRNÝ from Lidice, a village burned down by the Nazis. He was not allowed to return to the rebuilt village.
He left the occupied motherland together with another Lidice native Josef HORÁK. Once in Great Britain, he would first serve with the Czechoslovak Independent Brigade, where he underwent a parachuting course. Later, he became a navigator with 311 (Czechoslovak) Squadron. His mother and younger brother were executed in Prague − Kobylisy during the so-called "Heydrichiáda", a period of repression following the assassination of Nazi Protector Reinhard HEYDRICH. Josef STŘÍBRNÝ remained an air force pilot even after the war, but was kicked out and jailed for some time after the February putsch in 1948. He was released from the prison thanks to the help of several women from Lidice. He spent the rest of his life in Písek, sick and always haunted by the Lidice tragedy.
Since 1992, one of the Lidice streets bears his name.
Pilots and navigators with 311 (Czechoslovak) Squadron. Beaulieu, 1943. Josef STŘÍBRNÝ is sitting third from the left. The picture is from the collections of the Prácheňské Museum in Písek.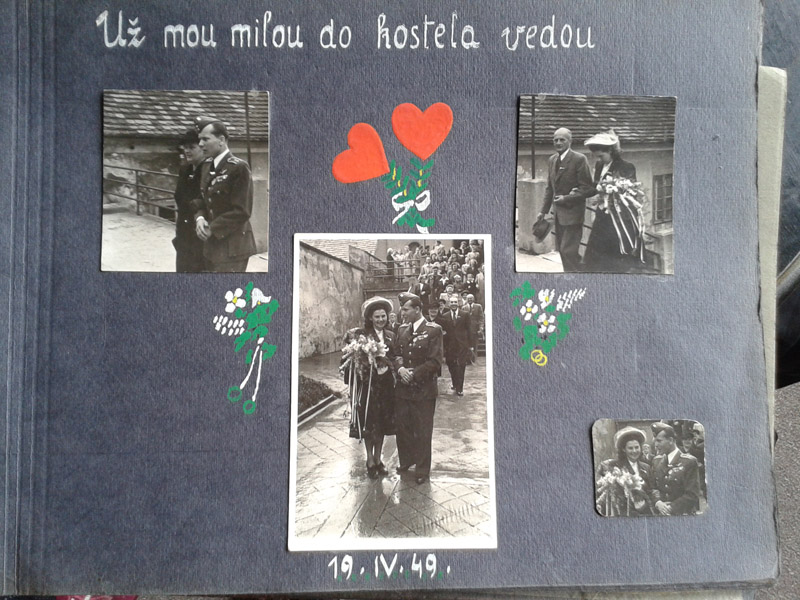 One of the happy moments of Josef STŘÍBRNÝ. His wedding with Radka DANEŠOVÁ. Archive of Radka Kysilková.
Communism went not only after the actual pilots, but also after their closest friends and families. This is a letter by Bedřich REICIN to deputy František BLÁHA, related to the dismissal of the wife of Josef STŘÍBRNÝ from her job: "Dear Comrade, in relation to your letter from 24th May 1949 considering the dismissal of Mrs. Radka DANEŠOVÁ - Radka STŘÍBRNÁ from her job with the military hospital, I would like to inform you that: The named person was dismissed for fundamental and preventive reasons because of her husband, who is not an active member of the Czechoslovak Army any more. The military hospital hired her without a prior approval of the Ministry of National Defence. With comradely regards, REICIN." Bedřich REICIN, NKVD agent (Soviet espionage and counter-espionage), former member of the 1st Czechoslovak Army Corps in the USSR. Co-creator of the many political trials after the end of World War II. In 1952, he himself became a victim of the communist regime and was executed.
Attachment